Breakfast & lunch waterfront casual dining
The Gold Coast's most captivating cafe views, seven days a week
Christmas Menu Available For a Limited Time
Available for group bookings of 12 or more diners. BOOKINGS ARE ESSENTIAL. View Christmas Menu >>
Breakfast & lunch waterfront casual dining
The Gold Coast's most captivating cafe views, seven days a week
View Café at the Gold Coast's Hinze Dam, Advancetown
Worth repeat visits to try their dishes! A splendid place not only for the delicious food, great coffee,great drinks but that view. A great place for the locals to escape to as well as seduce the tourists into seeing the natural gems of the Gold Coast.Well done staff of the View Cafe
Good value Friday lunch for 2, had a booking but didn't really need it, off season. This is a kiosk with large seating area outside with views, but it was chilly so chose an indoor table. Ordered at the kiosk, chicken bacon burger, fish and chips, and a couple of drinks. Food came right away and was excellent. The cafe is right at the Hinze dam, there's some nice strolls right there and you can walk out across the dam wall and see the spillway. Bill came to $60, would recommend if you're in the area..
Worth the trip out. As locals and patrons about six or seven times a year, the cafe continues to deliver great food and an awesome service. Unique venue creates a good atmosphere. Occasionally very busy, however the operations continue on effectively with a well trained front and back of house staff. Underrated venue on the GC and well worth a visit.
A Dam Nice Place Kiosk service was brisk, although they gave us the wrong table identifier and it took the waitress a bit to find us. The drinks were excellent and the view outstanding.
Mr Jamie Griffiths Well what's not to love about the beautiful ambiance of this fantastic Cafe! Local or tourist alike will enjoy the outdoor covered eating area of this fantastic little Cafe. The fresh homemade food menu is impeccably prepared from the beautiful aromatics flavours of the gorgeous pork and fennel sausage rolls, to the delicious rich chocolate brownies.....washbthem down with a chocolate milkshake or a glass of wine, yes its licenced. I warn you one is never enough..... I mean the brownie that is! We live on the coast and often come to see the dam overflowing, always making sure to frequent this fabulous little Cafe everytime! At times we can't wait for the rain so often sneak out for lunch. The beautiful fresh air and the stunning views of the hinterland mountains, seen straight from your table make it a great experience. The sevice is always excellent, friendly and the food is prompt to your table! If you come to the Gold Coast add this to your list of must sees whilst you are here! Enjoy the food, you will want to take some doggy bags home with you...... Especially the brownies!
Hidden little gem in Gold Coast hinterland My partner and I decided to go for a Gold Coast hinterland drive today and we stumbled upon this cute little cafe on a Google search for cafes near Beechmont. So glad we did. Yummy breakfast and all the staff so very lovely. Great of Hinze dam as well. Highly recommend this little gem.
Family lunch We went for lunch with the family and had a pleasant experience, the food was delicious and the staff was friendly, the chef took the time to check on the customers and make sure everyone was fine .good job chef joey
Return visit …Food just as good Stunning setting on calm winter's day. Food is very tasty. Nicest salad I have had for a long time and soup of the day , Minestrone very nourishing.Staff are efficient and very friendly. Very child friendly. Overall, nice atmosphere.
Morning coffee. A small friendly cafe with great views over the Hinze Dam. Staff were polite, efficient and cheerful.Covid safe cafe seating.The Bathrooms are nearby - airy and clean. Child friendly Good coffee and scrumptious muffins. Great spot overall.
A beautiful lunch! What an amazing lunch. Everything was full of flavor and we enjoyed every mouthful. Obviously a great chef. Beautiful area. Highly recommend a visit to this little Cafe.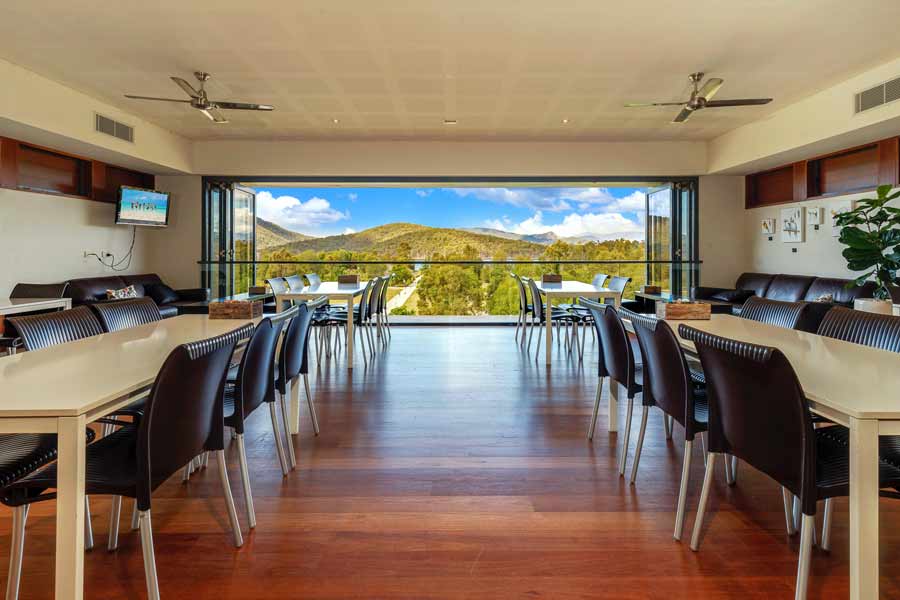 CORPORATE FUNCTIONS
Overlooking the picturesque surroundings of the Hinze Dam, the View Café function room is a multi-purpose space with catering options, ample power points and automatic dimming blinds and ample parking space for guests.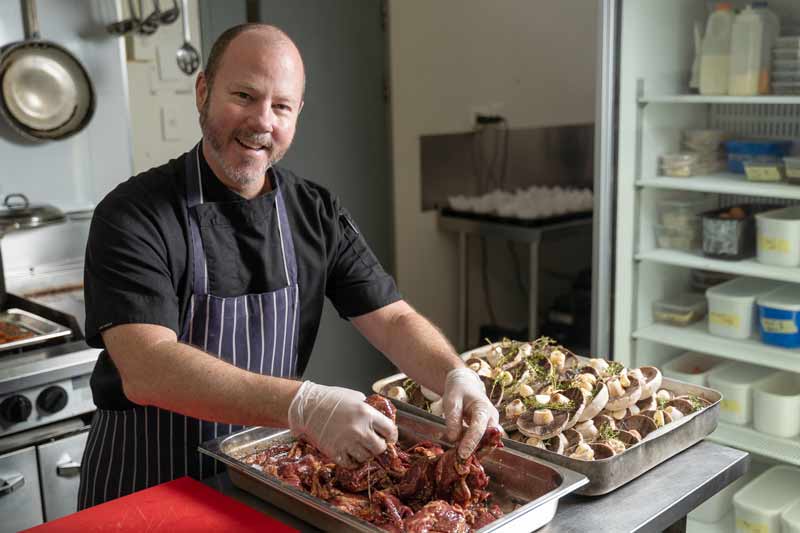 HOME-STYLE MENU
Settle into a seat on the terrace or in the conceptual dining room which juts out over the water and enjoy a coffee, homemade cake or and a wide selection of dishes to suit all tastes. We offer breakfast, lunch, snacks and kids dining.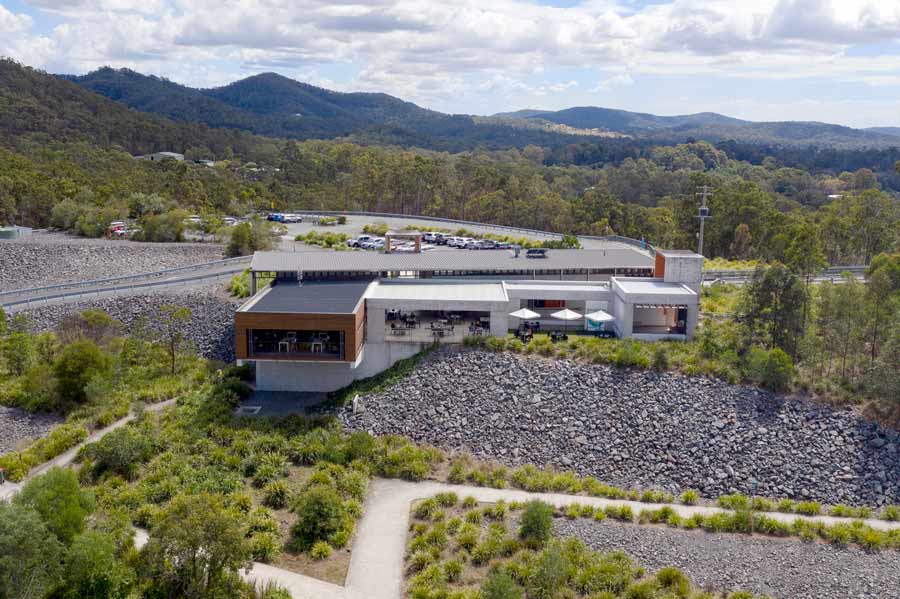 SPECIAL CELEBRATIONS
Enjoy the unique scenery of the View Café as the background for your special day. Our 'room with a view' can be used to celebrate birthdays, anniversaries, kid's parties, wakes, club meetings and travel groups.


A PLACE OF BEAUTY & TRANQUILITY
The stunning vistas from the View Café at the Gold Coast's Hinze Dam make this destination one of the Hinterland's most rewarding visits.
Relax outside or inside with a home-made meal overlooking the stunning scenery and serenity of the Nerang River where the captivating views stretch from the Numinbah Valley to the Pindari Hills.
If you're after a cafe with a view on the Gold Coast and surrounds, then View Cafe is a 'must have' on your dining list. We welcome bookings.
GROUP BOOKINGS & FUNCTIONS WELCOME
Whether by yourself or with family and friends for breakfast or lunch, or spending some quiet time or celebrating a special day, the View Café is an exquisitely peaceful place to experience.
It's also the perfect place to host a corporate event, birthday party, anniversary or for any special occasion. Vee Naidu
Gold Coast
Excellent experience at View Cafe yesterday. We were a group of 6..served by Allie..who was extremely courteous and customer focussed. Hot water request...no problem. Service with a smile. The Veg burgers with Sweet Potato were excellent. We finished off with aromatic coffee,hot chocolates + decadent desserts.General ambience & indoor seating made our lunch most enjoyable. Thank You..View Cafe. Vegetarian options: Great selection. ..and yummy. Lisa Hamill
Gold Coast
We had a drink there only. Beautiful inside lounges and table. Nice outside seating. Although we didn't eat the food being served looked amazing HEMI Trippa
Gold Coast
It was awesome, we struggle to find somewhere that we feel comfortable eating g as our son is anaphylactic to nuts but the staff assured us they would prepare it safely for us so we could all enjoy our breakfast. I am happy to say we were not disappointed it was all delicious, will definitely come again. Shay Robl-Purcell
Gold Coast
Honestly, gotta be one of my favourite places. The food is good, the veiw is phenomenal. I'd definitely recommend reading the history and monuments here. It's pretty interesting Anna Fleisher
Gold Coast
It's one of my favourite places on the Gold Coast. The cafe has amazing beautiful view and really tasty food. The staff always friendly and careful. Highly recommend for everyone 😊 Aaron Whittaker
NSW
1st timer, will be back, great views to suit the great food. Food: 5/4 | Service: 5/4 | Atmosphere: 5/5 Denise Ellis
Gold Coast
View Cafe is by far the best around . Their food is high quality cooked by an amazing Chef . Coffee - perfect always . Sophie , I wish I could give 6 stars!! We have been going to View Cafe since Sophie opened many years ago - quality has not changed . John Alder
Gold Coast
Had breakfast omelette at midday, excellent, and good service. A walk around the top of the dam. Well worth a visit. Food: 5/5 | Service: 5/5 | Atmosphere: 5/5 Margaret Palanca
Gold Coast
Nice place, very friendly and attentive Team and very good all meals/food we ordered and fair prices as well . Thank you View Cafe Team 👍👍👍👍👍 Tim Capuano
Gold Coast
Overall, fantastic spot! Food is really good and the staff are lovely. Something does need to be done regarding the 20+ minute line up waiting to order on a Saturday lunchtime...the till is just really slow and has happened both times I was there. Otherwise would be 5 stars across the board! Ben White
Gold Coast
The staff are friendly. The food was fresh and full of flavour. It's a great drive to get there. The view is relaxing from the cafe and it is located right at the dam wall where you can watch the water flowing out of the lake, over the spillway. James Robertson
NSW
Visiting from NSW. Had a delicious enjoyable breakfast with the best coffee I have ever tasted. Staff were very helpful and friendly. Great views. Perfect visit. Will be back Tzar Nikolai
Gold Coast
Such an amazing experience, beautiful view and the loveliest staff. Definitely a good way to spend valentines day morning. Iris Turton
Gold Coast
This cafe is at the Hinze Dam, this is a lovely spot for views and walks, the cafe staff are very friendly, the menu has good variety, very tasty, they have a children' menu and they do breakfast. Great coffee, good sized carpark, flat walking easy access for walkers and wheelchairs. The whole area was very clean and tidy. Yachien Tsai
Gold Coast
Superb view, service is good. Food's value and price is reasonable. Coffee is great. Mark
Gold Coast
I had the fish, chips and salad which was really fresh. Lovely service from the lovely staff, recommend!!! charlotte poto
QLD
Stunning view .. service was lovely and friendly . And the food is amazing . Thank you very much for the top service view cafe. Nelson Tran
QLD
They have the best orange and almond cake I've ever ate and their brownies were sublime. Really friendly staff and not to mention a great view too. Highly recommend Gihani Mandalawattha
QLD
Delicious food and very friendly service. Best chicken pie ever. Deb Harris
Gold Coast
Relaxing great place to go..friendly staff. Great service and outstanding meals..totally recommend..wont be disappointed